Headquarters - Omaha, NE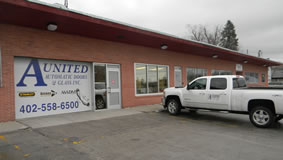 9,500 Sq Ft Office and Service Center
A United Automatic Doors & Glass, Inc.
1410 North Saddle Creek Road

Omaha, NE 68106

Telephone:

1 402.558.6500

FAX:

1 402.551.1497

E-mail:

info@aunitedglass.com


A Family Owned Business
A United Automatic Doors & Glass is a family owned company with three generations of experience in glazing and commerical automatics.
Here at A-United we strive for quality and service above all else. With every decision we make our first thought is with our customer. In many cases we are able to provide same day services.
We handle ALL your needs, from replacement to new installation of automatic sliding doors to specilized handicap access doors, glass and storefronts, . From big to little we can do it all.
.
Business Questions


Inquire below